THE HISTORY OF BURUNDI - Important Dates and Persons - Page 1
SOURCES: Lemarchand; Chrétien; Reyntjens; Naikumana; Ndarubagiye, Songore, IRIN, RTNB, OCHA Burundi, AGnews, ninde.org.
Commentary (TGS):
Royalty: King = mwami, People of princely origin = ganwa
Tutsi masses originaly divided into two main groups: Banyaruguru and Hima.
There are different opinions between historians about the origin of the Royalty the Hutus and the Tutsis. The same uncertainty is also shared by the people of Burundi and this note in AGnews illustrate the problem:
AGNEWS (21-09-04):
"Ce que nous nous savons, c'est que  la société Burundaise est patriarcale. Le Tutsi  est l'enfant  issue d'un mariage conçue avec un  Muganwa (Prince).  Or un Muganwa, au  Burundi,  a  une paternité Hutu".
Kingdom, Colony, Mandate period and Independence
The Burundian Kingdom was founded around 1680
Summary for the period
1600 - 1966 (DK)
The earliest inhabitants of the area were the Twa.They were largely replaced and absorbed by Bantu tribes during Bantu migrations.
Burundi existed as an independent kingdom from the sixteenth century. In 1903, it became a German colony and passed to Belgium in World War I. It was part of the Belgian League of Nations mandate of Ruanda-Urundi in 1923, later a United Nations Trust Territory under Belgian administrative authority following World War II. The origins of Burundi monarchy are veiled in myth. According to some legends, Ntare Rushatsi, founder of the original dynasty, came to Burundi from Rwanda in seventeenth century; other, more reliable sources, suggest that Ntare came from Buha, in the south-east, and laid the foundation for his kingdom in the Nkoma region.
Until the downfall of the monarchy in 1966, kingship remained one of last links that bound Burundi with its past
Ntare I Kivimira Savuyimba Semunganzashamba Rushatsi Cambarantama
Mwezi Mutaga I Senyamwiza Mutamo (d. c.1767)
Mwezi Mwambutsa I Mbariza Syarushambo Butama (d. c.1796)
Mwezi Ntare llI Rutaganzwa Rugamba (d. c.1850)
Mwezi Ntare lV Rugamba dies and a stuggle for power starts between the royal claimant (the ganwas) that lasts until 1966.
Mwami Mwezi ll Gisabo Bikata-Bijogu (b. 1840 - d. 1908) - Ndivarije Regent the first years.

Rebellion: Macoonco - Cyilima (Picture shows Cyilima) starts a rebellion against king Mwezi Gisabo. This rebellion opens up for the Germans to conquer Burundi.
The Germans successfully conquer Burundi.

Burundi becomes part of German East Africa. (Ruanda-Urundi)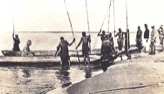 Mwami Mwezi Gisabo dies of malaria on the way home to Gitega after a meeting in Bujumbura with the German Resident. (The legends tells that if a King of Burundi sees the lake Tanganika he would be punished by death).
King Gisabo's son Mutaga Mbikije is coronated as king at the age of 15.
Regensy: Ndirikumutima (f)(1st time), Ntarugera (1st time), Nduwume (1st time)
Mwami Mutaga Il Mbikije dies afther a fight with his brother Bangura who was suprised courting one of the kings two wives.
King Mbikije had two wives and one son with each wife: Bangiricenge and Katamtari. Before he died he chose Bangiricenge as his successor.

Mwami Mwambutsa Bangiricenge (b. 1912 - d. 1977) was coronated as King only 3 years old. He was named Mwambutsa IV in 1917.
Regensy: Ngezamayo (to 1915), Ndirikumutima (f)(2nd time) (to 1917), Ntarugera (2nd time)(to 1921), Nduwume (2nd time)(to 19..), Karabona (1917 - 19..)
Burundi becomes a Belgian mandate under supervision of the League of Nations.

Administrative reform clearly reflects the Belgian preferential treatment of the Tutsi.
United Nations trust territory under Belgium.
UPRONA (Union pour le progres national): Created to demand independence in 1961 and was led by Prince Louis Rwagasore, a nationalist leader assassinated in October 1961.
Prince Louis Rwagasore was along with the Hutu Paul Mirerekano, one of the two pillars of the party and played an important role in leading the country towards independence. Uprona intended to be a party for all ethnic groups.
It remained after the election in 1961 the only official political party in Burundi until 1993 when multiparty politics were introduced.
Other parties in the pre election period: PDC (Parti Démocrate Chrétien ) and PP (Parti du Peuple) PP was financed by Mr Mauss, a Belgian fronting the colonial administration and aimed at dividing the Burundian nationalists.
Prime Minister: Joseph Cimpaye (Hutu) (b.1932 - d.1972)
Prime Minister: Prince Louis Rwagasore (Ganwa) (b. 1932 - d. 1961)

Elections were held to determine the ruling party after independence. Uprona obtain 58 of 64 seats in Parliament.
The presidential candidate of Uprona, Rwagasore, is assassinated. He was shot by a Greek gunman in a PDC plot
Prime Minister: Andre Muhirwa (Tutsi) (b. 1920 - d. 2003) (b. 1920 - d. 2003)
Independence. King Mwambutsa Il is still head of the country. Burundian politicians decided to keep the king as the head of the country.
The first constitution is promulgated. The political system a paliamentary monarchy.
Prime Minister: Pierre Ngendandumwe (1st time) (Hutu) (b. 1930 - d. 1965)

1965/Jan/7Prime Minister: Albin Nyamoya (1st time) (Tutsi) (b. 1917 - d. 2001)


Prime Minister: Pierre Ngendandumwe (2nd time) (Hutu) dies 15.Jan.
Prime Minister: Pié Masumbuko (acting) (b. 1931)

Prime Minister: Joseph Bamina (Hutu) (b. 1925 - d. 1965)
Prime Minister: Leopold Bihumugani (Ganwa) (b. 1919 - d. 2003)
Unsuccessful attempt by Hutu officers to overthrow the monarchy. A number of Hutu politicians were executed. King Mwambutsa flees.

Prince Charles Ndizeye (b. 1947 - d. 1972) was regent from July 8 to September 1 when he declares himself king. Mwami Ntare V.
Prime Minister: Michel Micombero (Tutsi) (b. 1940 - d. 1983)
1966/July/11 -
1966/Nov/28